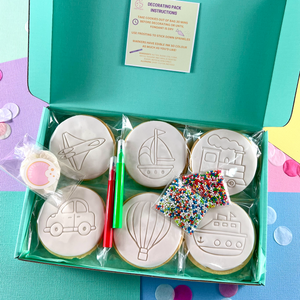 Trying to find a cure for bored kids and the school holiday madness? Kids cookie decorating packs are your perfect answer and the best way to keep your little ones occupied!
WHAT'S IN THE PACK?

- 6x cookies
- 2x edible markers 
- 2x sprinkle packs
- 1x sprinkle glue 
Upgrading to a 12 pack? Extra decorating supplies included!
All cookies come individually sealed and can last up to 6 weeks.

Gifting?
We'll deliver straight to the recipient, just add their details in the shipping section (we'll still send the tracking information to you). 
For an event?
If these are for an event, please be sure to select an earlier date than required in case of any delays.  eg. if your event is on a Sunday, select Wednesday arrival.
Ingredients:
Butter, sugar, flour, egg, vanilla buttercream and frosting.